Hundreds Celebrate the 25th Anniversary of the ADA at Kelly Ingram Park in Birmingham
Thanks for Making This Event a Huge Success!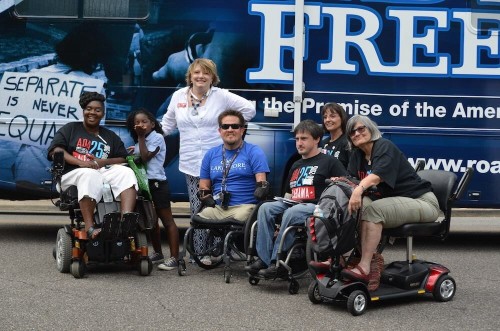 Peer Support Meeting Schedule
"I really enjoyed and got a lot out of the meeting. The information was useful and I had fun."
Disability Rights and Resources holds peer support meetings twice each month, on the second Tuesday and fourth Wednesday from 10-11 a.m. at our Birmingham office (1418 6th Ave. N., Birmingham).  Topics change monthly.  
Accommodations available upon request.  Please RSVP at least 1 week in advance.  To sign up or learn more, contact Josh Whitmire at 205-251-2223 or e-mail josh.whitmire@drradvocates.org
Topics planned for 2015 are:
May 12 & 27                    Job Readiness Skills
June 9 and 24                 Finding a Job
Monthly support meetings are also held at our Oneonta office on the 2nd and 4th Thursday from 10:30 am to Noon.  Contact Clara Christopher at 205-274-0174 for details , or email Clara.christopher@drradvocates.org.
Video on Accessible Playground
Ramp Construction Video
 "Empowering people with disabilities to fully  participate in the community."
Disability Rights and Resources seeks to equip people with disabilities, the resources and tools needed to be independent and connected within the community.
Our goal is to help people make decisions for themselves and to change the community's perception of people with disabilities.