Disability Rights & Resources
Our Mission is to Empower People with Disabilities to Fully Participate in  the Community
Disability Rights & Resources is a non-profit,  center for independent living serving Jefferson, Walker, Blount, St. Clair & Shelby counties in Alabama.  We provide "the power of hope & freedom".  Disability Rights & Resources is not a residential center.  We are an organization that assists individuals in living the life they want as a valued member of our community. Our services are consumer-controlled, so you can direct the services you receive.  Anyone who resides in the service area and identifies themselves as a person with a disability is eligible for our FREE services.  We serve individuals of all ages with all types of disabilities.  Disability Rights & Resources works closely with other agencies in our service area to provide information and resources to our consumers.  You can check out our Resources Spotlight below to learn more about the groups with which we partner.
Disability Rights & Resources provides the following services (you can click on the service name for more information):
Nursing Home Diversion

Disability Awareness
For more information, call (205) 251-2223, or e-mail Judy.Roy@drradvocates.org.  You can also download our Brochure.
Disability Rights & Resources Staff Register Young Voters
Disability Rights & Resources staff Gwen Brown and Clara Christopher recently assisted more than 500 students and school personnel register to vote at Oak Mountain High School and Helena High School in Shelby County. Working in collaboration with the Shelby County Probate Judge's office and school officials, students also cast ballots in a mock election using the Automark accessible voting machine.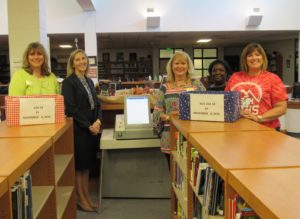 Gwen gave a presentation to students on how to complete a voter registration form, how to request an absentee ballot, and how to locate your polling place. She also demonstrated how people with disabilities may choose to use an adaptive voting machine.
"I learned about the actual voting process and how those with disabilities can still cast an anonymous vote. I feel that there is less pressure on me now because I know what to expect," said Joe Putley, a senior AP Government student.
Resource Spotlight
Are you ready to vote? alabamavotes.gov
____ Are you registered to vote?  The deadline to vote in the 2016 Presidential election is October 24, 2016.
_____ Is your address current or have you moved?  You must contact the Board of Registrars and submit an update to your voter registration record if you have moved.
_____ Has your signature changed?  Have you married or divorced since you registered? You can change you name by submitting a new voter registration form with the corrected information.  The form is available on line or at any public library.  http://www.alabamavotes.gov/downloads/election/vr/nvra-2.pdf
_____ Do you need to request an absentee ballot?
_____  Do you know where your polling site is?  A voter can verify where he or she votes on the Secretary of State's website at alabamavotes.gov.
_____ Do you have a current picture ID?  Without a valid and current ID, you may have to vote a provisional ballot.
_____ Do you need assistance voting? You may bring someone with you or a poll worker can assist you.
_____ Do you need to use an ADA accessible voting machine?  Polling sites are equipped with AutoMark devices that are equipped with audio headset, zoom in and out text, background contrast sip and puff and Braille keyboard.
_____ Polling sites are open 7:00 a.m. to 7:00 p.m.
https://www.alabamavotes.gov/downloads/election/2016/2016VoterGuide.pdf
Volunteer Spotlight:
Community foundation of greater birmingham
Thank you to Community Foundation of Greater Birmingham for awarding a $20,000 community grant to Community Action and Disability Rights & Resources in Blount and St. Clair counties.  The grant money will be used to create an accessible consumer computer lab at Community Action facilities in Blount & St. Clair counties.
Monthly Budget Tip:
Track your expenses for one month to see where you spend your money.  You might be surprised at how those biscuits, coffees, or cokes add up!  Take a look at the expenses at the end of the month and see where you might be able to save a little more!!
Video on Accessible Playground
Ramp Construction Video
Disability Rights and Resources seeks to equip people with disabilities, the resources and tools needed to be independent and connected within the community.
Our goal is to help people make decisions for themselves and to change the community's perception of people with disabilities.