Disability Rights & Resources
Our Mission is to Empower People with Disabilities to Fully Participate in  the Community
Disability Rights & Resources is a non-profit,  center for independent living serving Jefferson, Walker, Blount, St. Clair & Shelby counties in Alabama.  We provide "the power of hope & freedom".  Disability Rights & Resources is not a residential center.  We are an organization that assists individuals in living the life they want as a valued member of our community. Our services are consumer-controlled, so you can direct the services you receive.  Anyone who resides in the service area and identifies themselves as a person with a disability is eligible for our FREE services.  We serve individuals of all ages with all types of disabilities.  Disability Rights & Resources works closely with other agencies in our service area to provide information and resources to our consumers.  You can check out our Resources Spotlight below to learn more about the groups with which we partner.
Disability Rights & Resources provides the following services (you can click on the service name for more information):
Nursing Home Diversion

Disability Awareness
For more information, call (205) 251-2223.  You can also download our Brochure.
Disability Rights & Resources Staff Register Young Voters
Disability Rights & Resources staff Gwen Brown and Clara Christopher recently assisted more than 500 students and school personnel register to vote at Oak Mountain High School and Helena High School in Shelby County. Working in collaboration with the Shelby County Probate Judge's office and school officials, students also cast ballots in a mock election using the Automark accessible voting machine.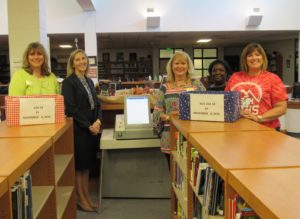 Gwen gave a presentation to students on how to complete a voter registration form, how to request an absentee ballot, and how to locate your polling place. She also demonstrated how people with disabilities may choose to use an adaptive voting machine.
"I learned about the actual voting process and how those with disabilities can still cast an anonymous vote. I feel that there is less pressure on me now because I know what to expect," said Joe Putley, a senior AP Government student.
Volunteer Spotlight:
We Love you Judy!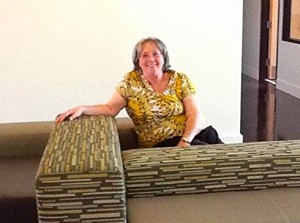 Judy Roy, having served Disability Rights & Resources for 32 years, is RETIRING! Judy means so much to all of us at Disability Rights & Resources and our community, not just as a colleague, but as a dear friend. A fierce and tireless advocate, Judy is an outstanding role model, and will be missed by all of us. We have been so fortunate to have Judy on our side, and we are sure her advocacy for justice will continue. We need advocates like Judy, now, more than ever. Thank you Judy for all you have done for our consumers, our community, and our nation!  Lead on!
Monthly Budget Tip:
Track your expenses for one month to see where you spend your money.  You might be surprised at how those biscuits, coffees, or cokes add up!  Take a look at the expenses at the end of the month and see where you might be able to save a little more!!
Video on Accessible Playground
Ramp Construction Video
Disability Rights and Resources seeks to equip people with disabilities, the resources and tools needed to be independent and connected within the community.
Our goal is to help people make decisions for themselves and to change the community's perception of people with disabilities.