Disability Rights & Resources
Our Mission is to Empower People with Disabilities to Fully Participate in  the Community
Disability Rights & Resources is a non-profit,  center for independent living serving Jefferson, Walker, Blount, St. Clair & Shelby counties in Alabama.  We provide "the power of hope & freedom".  Disability Rights & Resources is not a residential center.  We are an organization that assists individuals in living the life they want as a valued member of our community. Our services are consumer-controlled, so you can direct the services you receive.  Anyone who resides in the service area and identifies themselves as a person with a disability is eligible for our FREE services.  We serve individuals of all ages with all types of disabilities.  Disability Rights & Resources works closely with other agencies in our service area to provide information and resources to our consumers.  You can check out our Resources Spotlight below to learn more about the groups with which we partner.
Disability Rights & Resources provides the following services (you can click on the service name for more information):
Nursing Home Diversion

Disability Awareness
For more information, call (205) 251-2223, or e-mail Judy.Roy@drradvocates.org.  You can also download our Brochure.
Resource Spotlight
Family Voices of Alabama
The Vision of Family Voices of Alabama is that every child and youth with a disability receives family-centered care.
The resource link has a Healthcare Notebook that helps both individuals with disabilities & their health care providers. It is a great tool that has been provided to some clinics at Children's.  The mission of Family Voices of Alabama (FV of AL) aims to achieve family-centered care for all children and youth with disabilities.  Through our national network, we provide families tools to make informed decisions, advocate for improved public and private policies, build partnerships among professionals and families, and serve as a trusted resource on health care.
Parent Testimonial: I have personally been utilizing the Healthcare Notebook for over 3 yrs now and it has helped to boost my confidence, help towards advocating in regards to my youngest son's healthcare needs, the medical team appreciates that I have it and our elated about such a tool being utilized by a parent and it is a easy resource to use once you become use to it.  – Gwen Brown
Volunteer Spotlight: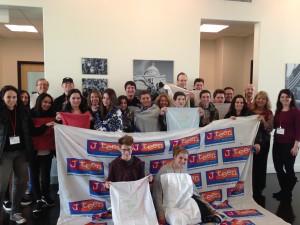 J-Teen Leadership from Westchester Co, NY visited Disability Rights & Resources for a second year! J Teen Leadership is a Jewish Youth Leadership organization that promotes leadership and service among the local Jewish community. Last year, they learned about disability history.  This year, they worked together to make blankets for some of our homeless consumers.  Thanks J-Teen!  Hope you enjoyed your Spring Break Civil Rights Tour through Alabama.
Monthly Budget Tip:
Be sure to shop around for the best prices. Many stores offer price matches.  Check around before purchasing big ticket items.  Ask about warranties or guarantees when purchasing large items or appliances.  Make sure you know how your investment is protected.
Video on Accessible Playground
Ramp Construction Video
Disability Rights and Resources seeks to equip people with disabilities, the resources and tools needed to be independent and connected within the community.
Our goal is to help people make decisions for themselves and to change the community's perception of people with disabilities.